Purplebricks and YOPA are the two most well-known estate agents in the UK. With that said, YOPA are currently a distant second, with Purplebricks having had a fairly large head start and currently dominating the online agent market - Just over 50% of properties marketed with an online agent are using Purplebricks. They're also the largest estate agent outright. So, is there any advantage to using Purplebricks' nearest rival? Read on!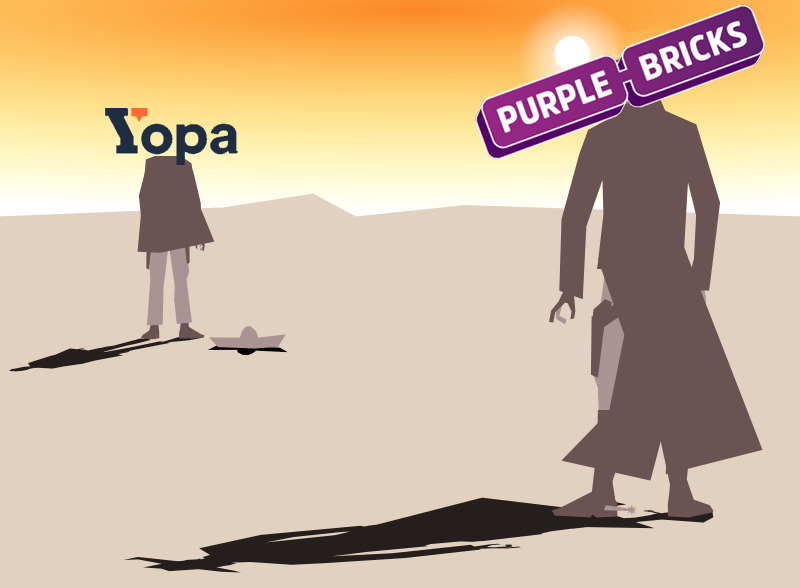 Fees & Features
Check Postcode's Price
Be aware that Yopa's pricing varies in the South-East / London Area. Visit below and enter your postcode so you know the exact pricing available to you.
The first thing you might notice when comparing Yopa and Purplebricks' offerings is the "parity pricing". Right now, both sell their core packages for £999. OnlineAgentPicker has been monitoring the market for some time, and this has been the case since late 2019, albeit YOPA has tended to undercut Purplebricks by up to a £100 at certain points in the past. The general trend in price has been upward with both agents. When Purplebricks launched in 2014, the price was £599 including VAT. It's likely that both agents will stay below the £1,000 mark, at least for their main offerings, for some time due to the psychological barrier of charging in "the thousands", something for which online agents have criticized high street agents.
Please note that the £999 price is only for those sellers whose properties are deemed outside the "London & Surrounding Areas". Both agents will charge £1,499 if you're in what they consider the London Area.
Further to the similarity in price, you'll find that the services offered are also remarkably similar: Everything, with a couple of exceptions, that you'd expect from a high street estate agent is provided - local expert valuations, advert creations, professional photography, floor plans, a sale board, and of course listings on Rightmove and Zoopla. The two exceptions are accompanied viewings and EPCs, which are instead offered as optional extras. Both provide unlimited accompanied viewing packages for £300 (higher in the London area), and according to YOPA, about 40% of their customers take them up on this offer. EPCs are optional, which is not necessarily a bad thing as many customers will already have one, and if not, they can be easily acquired (and often at less expense if you shop around).
Latterly, the number of packages YOPA offers has multiplied. It can be broken down into 'Core' and 'Premium', with the further option of 'Pay Now', 'Pay Later' and 'No Sale, No Fee' for each. This gives you an option of effectively six different packages.
No Sale, No Fee
Yopa's 'No Sale, No Fee' is much more expensive unsurprisingly, but still stands to save you money compared to a high street agent, depending on your properly value, with the 'No Sale, No Fee Core' package coming in at £1,1999. Only Yopa offers this, and Purplebricks seems unwilling at least for right now.
Deferred Payment
Both online agents offer a 'pay later' option, priced the same. Both Purplebricks' and Yopa's deferred payment option lasts for 10 months from the property's listing or until the property is sold, whichever comes first.
Purplebricks' deferred payment option has courted some controversy in the for a couple of reasons. One is that the option is contingent on using Purplebricks' Conveyancing Services, and that those who don't are contractually bound to pay an admin fee of £360. In addition to the admin fee, using a different conveyancer will mean all fees are due immediately. Do read your service agreement carefully, as small print like this is subject to change without much notice or fanfare. Purplebricks also attracted some criticism that made it onto BBC's Watchdog, where the deferred fee arrangement, at the time, was actually a loan arrangement with Close Brothers (at least according to them), which customers had complained was misleading. This seems to have been rectified somewhat with the clarity now provided - Purplebricks' association with Close Brothers has stopped, and they now use 'Specialist Lending Limited', which is also trading as "Purplebricks Payment Services" and "Duologi", with whom they 'may transfer payment' to. In any case, this is not necessarily a big deal, so long as you're aware of the situation. Purplebricks state that their checks won't publicly appear on your credit file.
Yopa's 'Pay Later' option works similarly: you are obligated to use their conveyancing partner Optimus. Yopa also enlists Specialist Lending Limited ("Duologi"), who they claim they may transfer/assign its right to receive payment of the fee. If you break the deferral agreement, and don't use Optimus' conveyancing services, you will be obligated to pay £300.
Overall, being 'hybrid agents' Purplebricks and YOPA offer some of the fullest offerings on the market, and their high starting prices relative to other online agents is a reflection of that.
Viewings
Both Purplebricks and YOPA offer an unlimited viewings package for £300. This prices rises in London to £399 for Purplebricks. According to Yopa, 40% of their customers take them up on the accompanied viewings, meaning they are effectively getting a full estate agency service.
Reviews
Both agents make heavy use of Trustpilot for marketing, and both are well rated. Interestingly, much like their pricing, there is close to a parity: YOPA are rated 4.7/5 as of right now, while Purplebricks are rated 4.6. Purplebricks have an absolutely mammoth amount of reviews that we doubt anyone will ever get all the way though, currently standing at in excess of 70,000. This makes them the most reviewed estate agent in history. YOPA have a very large amount of Trustpilot reviews as well, but it pales in comparison somewhat, standing at over 12,000.
On allAgents, the UK estate agent industry's largest review website, there is however a large disparity: YOPA are well-reviewed, with a rating of 4.76/5 over around 1,800 reviews, but allAgents appears to be something of a lightning rod for bad Purplebricks reviews, as they are rated 1.22 / 5 over around 360 reviews. And from our analysis, this rating is going in the wrong direction. For more details on Purplebricks' review situation, please visit the Review section on their page.
A common pain-point we've noticed throughout Purplebricks' reviews is actually that buyers seems to dislike them more than one would expect. It's hard, however, to claim that this causes any loss of sales. We couldn't find any pattern to Yopa's negative reviews.
Our recently released rankings ultimately awards YOPA a higher rating and ranking than Purplebricks despite the large volume of reviews on Trustpilot, due to the importance of being rated well across the board, but this is ultimately subjective, and we invite you to look in detail at each agent.
Market Position & Market Share
Purplebricks are undoubtedly that largest online estate agent, and in some ways are synonymous with online estate agency. This is no doubt with no small thanks to Purplebricks' large advertising campaign which has allowed them to grow into the UK's largest estate agent, never mind online agent, if going by the number of sale boards plastered across the land.
Yopa, with deep pockets themselves, are directly challenging Purplebricks, although it could be said that their strategy is rather similar. They do offer more flexibile pricing, and are marginally cheaper, but these days, not by much. As mentioned in the previous section, there is consideration to be had in their review profiles.
Both agents market themselves as 'hybrid estate agents' these days, rather than straight online estate agents. This basically means they have 'local experts' to value your property and create your adverts for you, and if necessary, do viewings. Thus, combining both high street and online agents' strengths. Consequently, this leads to higher fees than you'll find with other online agents, and indeed, Purplebricks and Yopa are about as expensive as you'll find an online agent, with only Express Estate Agency (a quick-sell company) really charging a noticeably higher amount for a comparable service. Even 99Home, who are known for their low fees, charge £999 when including all the bells and whistles with their High Street package.
Based on our market share research, Purplebricks commands 53.75% of the online estate agent market with about 17,000 listings, obviously making them the largest online agent, while YOPA sit in second place with 13.19%, with about 4,000 listings. To summarise: both are pretty popular, and it shouldn't be too hard to also find word of mouth advice in addition to what you find online if you seek it.
Summary
Purplebricks and Yopa may come across as classic 'titans' - a Coke vs Pepsi deal - although YOPA's market share probably doesn't warrant that yet, despite them being the 2nd largest agent or thereabouts. Unlike with Coke and Pepsi, it's not completely obvious which is better between Purplebricks and Yopa, although we think there's enough info out there to come to an informed conclusion.
Ultimately, both are expensive but fully-featured online agents. Yopa now matching Purplebricks in price has made it less of an obvious choice between the two. Both are targeting the general market, first-time sellers and the like, and so the products have had a lot of thought put into them, all the while there's been a good amount of time to work out the kinks. There's relatively little extra workload for a customer, outside of hosting viewings should they not opt-in for a viewings package. This is in contrast to some less expensive online agents who would expect you to contribute parts, like the advert, photography, floorplans, and so on. That's not to say you should only go with them if you need your hand held (although there's nothing wrong with that at all), but there are savings to be made if you look beyond the two, potentially at the price of a less-streamlined experience.
The good thing about both, is that there's enough feedback and opinion out there, that, if you consume it all, can give you an excellent idea of what to expect from the two agents, good and bad. For our money, Yopa has better feedback across the board, and is embroiled in much less controversy, but statistically, you're likely to be happy either way.